Event Date and Time
Sat., Aug 13, 2022 9:00 - 11:00am
Event Address
Huntington Beach State Park, Lifeguard Tower 9
21601 Pacific Coast Hwy.
Huntington Beach, CA 92646
United States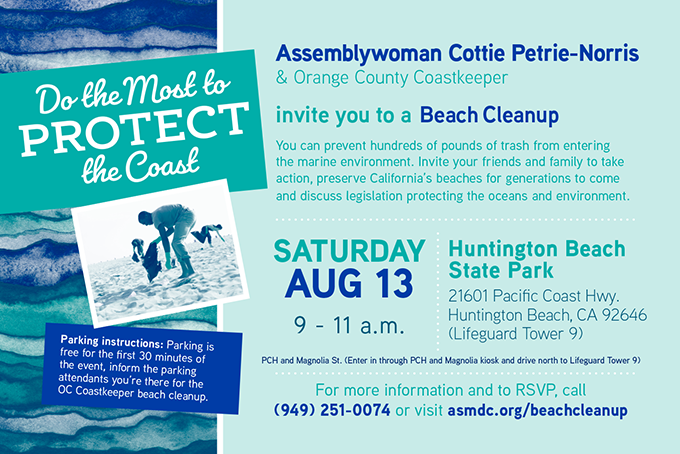 Assemblywoman Cottie Petrie-Norris & Orange County Coastkeeper invite you to a Beach Cleanup. You can prevent hundreds of pounds of trash from entering the marine environment. Invite your friends and family to take action, preserve California's beaches for generations to come and discuss legislation protecting the oceans and environment.
Huntington Beach State Park, Lifeguard Tower 9
21601 Pacific Coast Hwy.
Huntington Beach, CA 92646
Saturday, August 13
9 - 11 a.m.
Parking instructions: Parking is free for the first 30 minutes of the event,
inform the parking attendants you're there for the OC Coastkeeper beach cleanup.
For more information and to RSVP, call (949) 251-0074.